What's a Polyurea Machine?
Polyurea is a material designed to be used in moisture and water insulation, non-permeable, protecting the structure, and used in a coating process, which we can also call coating work. The machines designed to complete your insulation works by spraying polyurea material are called polyurea machines.
Polyurea machines are known by different names. In order to avoid confusion, we have included other names of the polyurea machine below.
polyurea coating machine
polyurea spray machine
polyurethane polyurea machine
polyurea spraying machine
Polyurea Machine Specifications
Pusmak's hydraulically driven KPX 20+ (Plus) proportioning machine has been designed and manufactured to meet the needs of polyurea applicators and spray foam specialists. With its precise proportioning capacity, it provides the applicators with a very well proportioned mixture of two components. The machine is equipped with all the necessary technical features to put users at ease during application.
The preheater system with a maximum hydraulic power capacity of 240/3480 bar/psi and a total power of 11,200 watts allows users to apply polyurea and spray foam in all seasons. The KPX 20+(plus) hose heating system has been produced to allow the use of different types of heated hoses.
Error control automation allows the user to limit the pressure tolerance range and check the error history to diagnose potential problems. The simple and convenient electrical and electronic design of the machine makes it easy for the user to control everything easily. The specially designed phase control and correction system prevents costly repairs caused by incorrect connection to electrical outlets.
The Way Polyurea Machine Works
You can watch the waterproofing application performed using the Polyurea machine in our video.
For more videos, please visit our youtube channel  
Polyurea Machine Prices
Polyurea machine prices vary in a very wide range. Polyurea machine prices vary according to polyurea machine performance and features.
Get information on polyurea spray machine prices...

Get Price, WhatsApp
Pool Coating Insulation with Polyurea
Polyurea in spray pool coating insulation. Screen polyurea machine application video and waterproofing application photos of the pool insulation application made with the PUSMAK H KPX 20 PLUS model polyurea machine produced by Pusmak. This application was carried out with our machine that we exported to Kosovo.
Waterproofing video with polyurea machine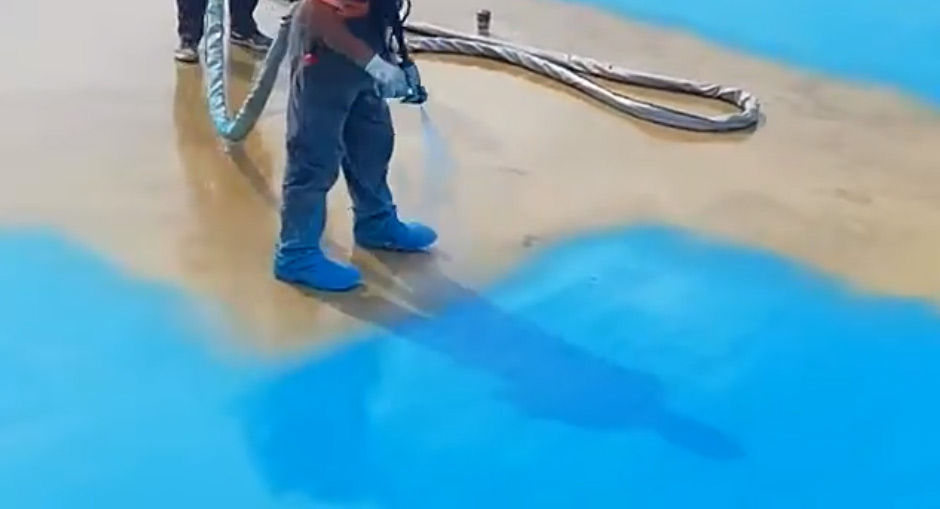 Pool waterproofing with polyurea machine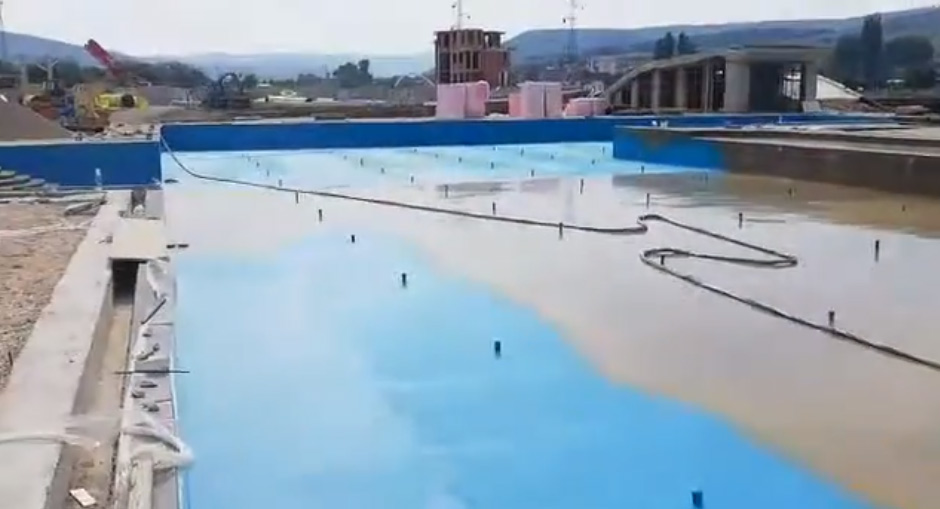 Pool waterproofing with polyurea machine
Today, as the building industry evolves into more and more different forms, polyurethane-based solutions are applied both in foam insulation for thermal insulation and polyurea applications in waterproofing. Polyurethane applications, which provide a flexible application opportunity and high efficiency for waterproofing and heat insulation, are becoming increasingly widespread in our country and in the world.
Polyurethane-based applications, which provide great advantages for the life of the buildings and the comfort of the users, should be applied with spray machines in a completely professional manner. In professional applications, contractors need high pressure polyurethane spray foam, also known as polyurethane spray machines or polyurea machines.
The prices of such professional equipment and machines are directly related to the technical specifications of the spray gun, transfer pump and heated hoses that will be presented with the machines and the machine selection. As Pusmak, we offer the highest quality products you may need, with the best service and advantageous prices.
Polyurea Spray Machines
It would be more accurate to define Polyurea Spray machines as a machine set. Because this set consists of a high pressure polyurea spray machine, an air source compressor, two transfer pumps used to transfer the raw material from the barrels, a heated hose specially designed to maintain the temperature of the heated raw material, and a spray gun, which is the point where the mixture is made.
Polyurea spray machines, also called polyurea machine, do the job of spraying the two-component polyurea raw material in liquid form by mixing it with a certain temperature and pressure. Polyurea, which is mixed and sprayed under certain heat and pressure, quickly adheres to the surface on which it is applied and solidifies. It can be said that the product obtained is the highest point reached in the world in waterproofing.
As a working principle, polyurea spray machines function as a part of the set. First, the raw materials are transferred to the polyurea spray machine by means of 2 separate pumps, the polyurea spray machine preheaters and the hydraulic pump ensure that the raw materials reach the appropriate consistency in terms of required heat and pressure.
Then, the liquid polyurethane raw material, which has reached the required temperature, is delivered to the gun in high pressure through the specially designed heated hose. In this whole process, the two components of the polyurethane are processed without mixing with each other. In the polyurea spray gun, which is the last point of the process, these two components are mixed and sprayed under high pressure.
Finally, it should be noted that a compressor with the required power for the operation of the transfer pumps and the cleaning of the spray gun at the moment the spraying stops is a part of the set.
The diagram below shows the general view of a polyurea spray machine set.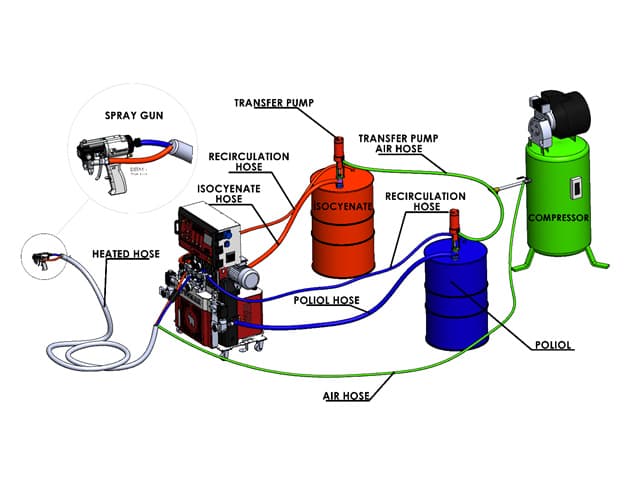 At this point, it should be noted that the most distinctive feature of a polyurea spray machine is its ability to process the raw material under a constant temperature and balanced pressure. In other words, for a quality polyurethane foam, the machine should process both components at constant temperature and balanced pressure. Since Polyurea spray machines work under high heat and pressure, they must be produced with durable and quality raw materials and workmanship by nature. In case of working with machines that do not meet these conditions, the loss from the product will cause much more damage than the profit to be obtained.
Polyurea Machine 
Polyurea is a very quality and durable waterproofing material. When applied correctly it is classified as the best material for waterproofing. Spray Polyurea is a kind of synthetic polymer which is comprised as a result of the reaction between diamine and diisocyenate. After the reaction of these two components under desired heat and pressure the product takes its last shape in a very short time. It can adhere in any type of surfaces, apart from nylon, silicon and oily surfaces. Its elasticity and resistance to high pressure is very high. Its minimum life is about 25-50 years and is not affected from heat and cold so much. Because of being adhered to the surface as a whole, its isolation risk is very low. Moreover, It can be applied on surfaces both in outdoor and indoors.
Some very often usage fields of spray polyurea are pools, water tanks, roofs, waste water purification plants, bridge decks, piers of bridges, ports, airports etc. Moreover polyurea has many other application examples in military and defence industries.
Just like spray foam, polyurea machine is used for spraying two-component polyurea raw material at desired level of heat and pressure.  The sprayed product covers and adheres on the surface.
Spray polyurea machine set is mostly fixed on a rig just like spray foam machine set. Apart from the machine there are some other equipment such as air compressor, transfer pumps, heated hose, spray gun etc. While heated hose keeps the temperature of the raw material until it is mixed in the gun, the air compressor is used for cleaning of the spray gun and for triggering transfer pumps.
Spesifications of Pusmak Kpx 20+ Polyurea and Spray Foam Machine

 

Metric

Imperial

Weight

295kg

650lb

Supply Voltage

230/400V

230/400V

Number of Phases


3

3

Frequency

50/60Hz

50/60Hz

Preheater Power

11,2kW

11,2kW

Maximum Hose Heater Power

6kW

6kW

Installed Power

22,2kW

22,2kW

Power Source

Hydraulic

Hydraulic

Maximum Hose Length

90m

295ft

Component Type

Two Component

Two Component

Approximate Output Per Cycle


0,2kg

0,44lb

Maximum flow


6,84kg/min

15,1lb/min

Mixture Ratio


1:1

1:1

Maximum Fluid Temperature

80℃

176℉

Maximum Working Pressure


210bar

3045psi

Height

132cm

52in

Width

104cm

41in

Lenght

65cm

26in
Tags: polyurea machine for sale, polyurea machine for sale, polyurea machine for sale